Meet Kathy and Nicole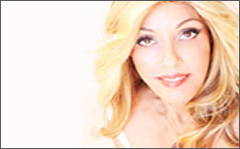 KATHY TRACY
La Bella Donna Cosmetics co-founder Kathy Tracy, who runs the company's Los Angeles office, is a walking testimonial for her products. She credits La Bella Donna's signature product - Loose Mineral Foundation. "I never go out without my minerals," explains Kathy, who has always been in the public eye. The New York native, a former model, continued to work sporadically while raising her two children (son; David and daughter, La Bella Donna co-founder Nicole Tracy) in Los Angeles. "I've always been involved in fashion. After David was born, I wanted to have flexibility, so I made the transition from modeling to wardrobe consulting, which evolved into image consulting. I worked for private clients and for corporations and I needed to look good - it was my business. But I started to have trouble with makeup. I have sensitive skin and I'm of Italian descent, which means that I have an unusual skin tone. Unfortunately, makeup would turn colour on me within an hour -it required constant touching up. Either it looked mask-like or it would fade away. I gave up on traditional foundations and became a sun-worshipper because I looked better with a suntan - it looked like makeup. Well, now we know what that does to the skin. I developed hyper-pigmentation and excessive dryness, and because of my colouring was not a good candidate for a peel. I was very frustrated."
At the same time, Nicole, who was in college, was modeling and developed adult acne. Their personal makeup challenges led the mother-daughter team to develop a foundation to meet their own high standards: no known irritants; superior, long-lasting coverage; colour that stays true; appropriate and beneficial for all ages and skin types (Kathy and Nicole have very different skin complexions). The result, La Bella Donna Loose Mineral Foundation, launched in 1994, has made them pioneers in the mineral makeup movement.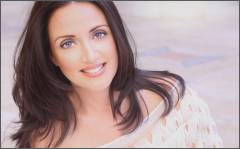 NICOLE TRACY
Nicole Tracy doesn't have to worry about acne any more. Although the co-founder of La Bella Donna Cosmetics currently spends more time behind a desk running a national cosmetics company than in front of a camera, she and her mother, Kathy, remain La Bella Donna's best advertisements. "Between my mother - who had her own problems with makeup - and me, we had drawers full of makeup we couldn't wear because of all the FD&C dyes, oil or alcohol, talc, fragrance and preservatives," says Nicole, who joined forces with Kathy in 1994 to develop a makeup formula that worked for both of them. "We especially wanted to bridge the gap between wellness and beauty; we didn't set out to create a 'natural' makeup, because those don't necessarily give you the coverage you need in shades close to your own skin tone," she explains. A savvy businesswoman, Nicole, who grew up in Los Angeles, relocated to her native New York in 1998 to establish an East Coast presence for La Bella Donna. She developed the line while completing her studies at the University of Southern California, from which she received a B.S. degree in Communications and Business. Nicole currently resides in Los Angeles,California with her husband and two children.